Oliver & Heike Dusterhoff
Owners of Continental Saddlery Inc.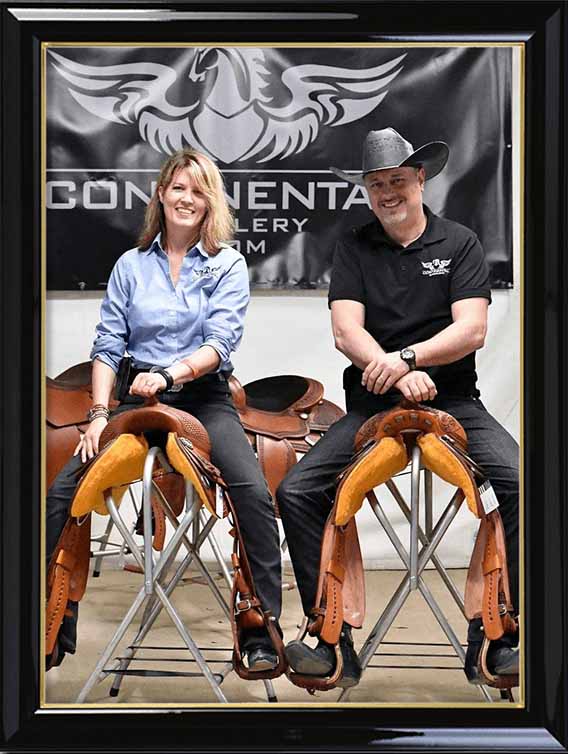 ALL our saddles are still individually hand crafted and hand tooled the old fashion way right here at our shop in Alabama.
No mass production 'assembly' like most other brands and STILL building one saddle at a time, the old fashion way, with the utmost care and precision.
The Original Continental Pullman Saddle Co. was originally founded in 1985 in Indiana USA, then relocated in the mid 1990's to Ider, Alabama.
The Continental brand prouds itself to offer individually, handcrafted saddles that are ALL hand tooled and to this day STILL being built in Alabama  USA using the best materials available, we are able to offer HIGH quality saddles at a reasonable price.

Our saddles are built on the revolutionary 'Equi-flex' (R) brand saddle trees by Steele Saddle Tree Co. and were developed specifically for todays performance horses in mind to provide the highest level of performance possible by eliminating pressure points and bridging often known to cause dry spots and sore backs with conventional saddle trees used by our competitors.
Our state-of-the-art seat padding will provide you with most comfortable ride you will EVER have while providing the most possible close contact
Find out for yourself what we and our saddles are all about, just email us or call us and ask about our 'Non-obligation' Demo saddle program and
EXPERIENCE THE CONTINENTAL DIFFERENCE
ALL our saddles are still  individually hand crafted and hand tooled the old fashion way right here at our shop in Alabama.
No mass production 'assembly' like most other brands.
STILL building one saddle at a time, the old fashion way, with the utmost care and precision.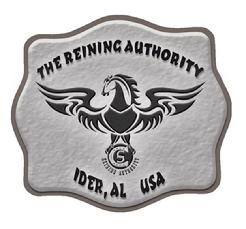 ATTENTION European Customers:
PLEASE note that OUR saddles, made by US, Continental Saddlery Inc., Ider Alabama are known in Europe as "C.S. The Reining Authority" and carry THIS (our) logo. Saddles NOT carrying our Logo but just the 'Continental Saddlery' brand name are NOT made by OUR company and we are NOT affiliated with those saddles or their maker.
Some TV Spots About Us
Check out some of the TV spots and magazine/media coverage about us and our saddles. Head over to the media page to see even more ...
2018 TV spot Continental Saddlery RFD-TV
Continental Saddlery on Simply Southern TV show
Some Text Excerpts From Articles Done About Us
Some of the people that help us produce such quality and admired work ...
(article done by NRHA Reiner Magazine)
People Behind the Partnership – Oliver and Heike Dusterhoff
Continental Saddlery is a hands-on operation based out of Ider, Alabama by way of Germany. Owners Oliver and Heike Dusterhoff are German by origin, but the couple proudly produces 100 percent made in the USA products. Continental Saddlery Saddles are individually hand crafted and hand tooled the old-fashioned way in the Dusterhoff's shop in Alabama.
The NRHA Media department had a chance to sit down with the personable couple at the Futurity to visit about their involvement in the reining industry.
How did you first become involved in reining?
"In the early '90s we were trying to push reining in Europe, so we manufactured saddles for the European market because reining was just getting started in Europe. That's basically how we got into it. We talked to trainers and people that were involved in reining at the time and we tried to specialize in reining with our saddles." — Oliver
How long have you been involved with NRHA?
"In 2005 or 2006, we did trophy saddles for the NRHA. There was a company called Cowboy Central that was involved with NRHA at the time and they went out of business, so we pitched in and provided trophy saddles that year. We've been involved with NRHA ever since." — Oliver 
Favorite Futurity memory?
"The first Futurity we attended is really the most impressive one for me because we'd never been here and we became a sponsor. Being in this atmosphere, it's just an incredible show to take in." — Oliver
"The first time [we attended the Futurity], I got goosebumps watching the winner come back in when the arena's all dark, the whole Run for the Roses thing. Even talking about it now, I get chills. That's one thing I'll always remember is how incredible it was to watch all the great runs, then the winner coming in and the whole atmosphere was just incredible. That just stuck with me, to see that for the first time, because we had never seen it before." — Heike
With everything that 2020 has thrown at us, what does it mean to you to get to have this Futurity?
"A lot. It's really important, not just to us, but for the industry. There's so many people working so hard. For the horse trainers there's just one shot at the Futurity, you have the 3-year-old, you want to show it, so I think it's super important that NRHA did manage to get this set up." — Oliver
"Everybody who helps put on this show, my hat's off to them because it's not easy. We all do our part and do what we have to do to have this event. We're just super happy that it's actually happening. I'm grateful that NRHA stuck with it and said, 'We're going to put this Futurity on and do whatever we can to make this safe for everybody.' For the industry it's very important that they're pulling this off." — Heike
What would you like people to know about Continental Saddlery?
"We are one of the few brands [of saddles] made from scratch in the United States. We do not import saddles and put our logos on them; we make them in Alabama. We have a team, there's 10 of us and we make the saddles. That's one thing we are really, really proud of, that our saddles are made in the U.S. Even for us as foreigners, it just means a lot to us to have a product made here. People are starting to realize that, and people are starting to appreciate it. There is definitely a difference. We're not just a dealer. Customer service is incredibly important to us and that's why we attend the shows ourselves. We just try and take care of people.
"I remember one time this lady walked by the booth, and I said, 'How's your saddle?' And she said, 'Wow, I can't believe you remember me, I bought a saddle from you 10 years ago. I haven't bought one since because I'm still riding it. I can't believe that you remember me and that you still talk to me.'" — Heike
Look For Us
When you hit the shows, look for us at our booth ...