ALL OUR SADDLES ARE
PROUDLY MADE IN THE U.S.A.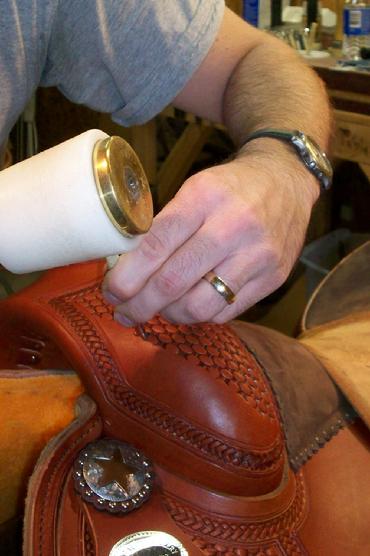 ALL our saddles are still  individually hand crafted and hand tooled the old fashion way right here at our shop in Alabama.
No mass production 'assembly' like most other brands.
STILL building one saddle at a time, the old fashion way, with the utmost care and precision.
Demystifying the flexible saddle tree
Why a flexible tree ?
As with ANY consumer products in general, TECHNOLOGY evolved throughout the years. We watch flat screen color tv's and no longer 10″ black and white tv's – the same goes for the saddle tree – it has EVOLVED into a NEW, advanced generation of saddle tree that is a FAR CRY from those conventional trees being used for centuries made out of wood, covered with hide or fiberglass.
Do I NEED a saddle with an Equi-flex tree ?
If you use your saddle mainly for heavy duty ranch work or steer rope THIS is not for you. Reining is all about 'feel' and being felt by your horse.
The benefits of a flex tree are indisputable, a better 'feel' for the rider of the horse's movements, being a more 'pro-active' rider instead of just 'reactive'.
Bridging and pressure points are being virtually eliminated by the saddle's/tree ability to conform to the horse's back versus the common, 'rigid' piece of wood placed on a horse's back with any "traditional" saddle tree.
Borderline fitting problems are solved with the ability of the bars of the tree to conform and 'give' just enough to avoid pinching AND bridging.
Why does the flexible tree have such a bad reputation ?
When the idea of a 'flexible' saddle tree sprung over a decade ago, many tree manufacturers tried to offer THEIR version of a 'flexible' tree, MOST of them have failed due to their inconsistency in materials, concept of the 'flex' etc., resulting in a BAD reputation for the 'flexible' tree in general.
The Steele Saddle Tree Co. has been working for YEARS on the RIGHT product before introducing it to the market, by THAT time the common 'flex' tree as it has been called already racked up a lot of criticism, so the Equi-flex tree is NOT just another "flex tree" !
Why don't other saddle brands use it ?
We CAN'T speak for the competition, but MOST other saddle brands do not specialize in Reining the way we do. To this day, the competition still 'snubs' the 'Equi-flex' tree as "just a fad". Talk to any of the thousands of customers of ours that have tried it and they tell you they would NEVER go back to the outdated, "traditional" saddle tree found in most other brands.
If you have ANY additional questions about the "flexible" saddle tree simply give us a call OR email us and ask for our non-obligation DEMO saddle and judge for yourself

Some Of Our Process
Just some of the processes that go into making a CS Saddle